THE GLORY OF THESE DAYS, BECAUSE CHRIST HAS ARISEN!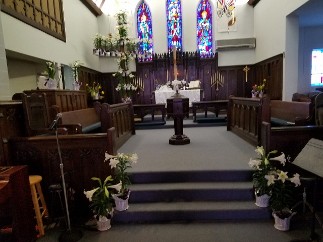 ANNUAL EASTER EGG HUNT
BRAND NEW ADULT BIBLE STUDY
Monday,s April 24, 6:30-8 pm
Selected by members: THE BOOK OF ROMANS
THIS SUNDAY, OUR MONTHLY POTLUCK, APRIL 26
AFTER 11 AM WORSHOP, 2 SURVEYS TO WORK ON FOR OUR CONGREGATIONAL SELF-STUDY/FUTURE COMMITTEE
CHURCH NEWS NOTES
JOIN US IN THE STUDY OF GOD'S WORD
MONDAY EVENINGS, 6:30-8:00 PM
TOPIC CHOSEN BY PARTICIPANTS:

UPCOMING MAY EVENTS:
MAY 8, MONDAY- @ OUR SAVIOUR LUTHERAN CHURCH
THE PORT HURON MUSICAL OF THE WOMEN'S CHORUS
Presenting
100 YEARS OF SINGING
7 pm, Admission free, freewill offering for music scholarships
and
TRAVEL WITH US TO FRANKENMUTH
THURSDAY, MAY 11, DEPARTING 9AM.
COST: $45. NON-REFUNDABLE,
FOR TRANSPORTATION (PREFERRED CHARTERS) AND YOU LUNCH AT
ONE OF THE TWO CHICKEN RESTURANTS.
RETURN IN LATE AFTERNOON.
MUST BE PRE-PAID (CASH) AT OUR SAVIOUR BY MAY 8!
LESS THAN 35 TRAVELERS WILL CAUSE TRIP TO BE CANCELLED.
and
WONDERFUL WEDNESDAYS
Weekly thru May 17 meal, choirs, youth groups, classes, closing inter-generational session in sanctuary